Welcome to The Bailie Hotel
Welcome to the Bailie Hotel, nestled in the heart of Bailieborough town. At the Bailie Hotel, we take immense pride in providing you with an unparalleled dining experience, offering delectable cuisine at exceptional value, all wrapped in the warm embrace of Irish hospitality. In our Tailor Lounge, our dedicated chefs work tirelessly to curate a diverse menu, featuring hearty breakfast options, a mouthwatering carvery lunch, enticing evening specials, and a delightful bar food menu. We look forward to extending a warm welcome to you and ensuring your visit is a memorable one.
Book Your Christmas Feast at The Tailor Lounge
The holiday season is just around the corner, and what better way to celebrate than by indulging in a delectable Christmas lunch or dinner? We are excited to announce that we are now accepting bookings for our festive feasts at the Tailor Lounge,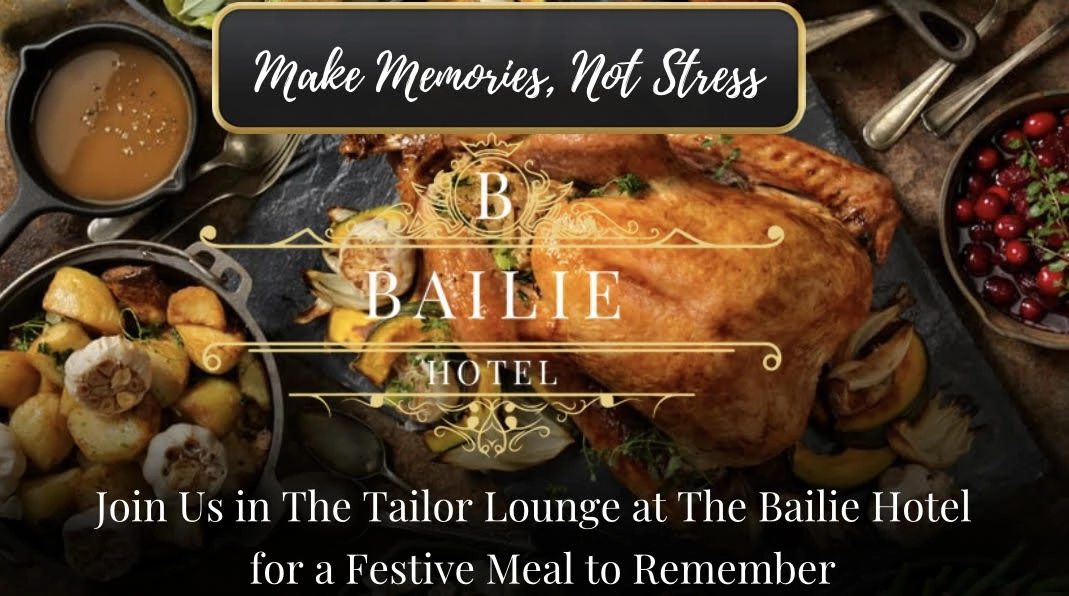 Please note we need at least 24 hours notice when making a booking for a table, we will always try to accomodate your request but during busier periods we may not be able to, when making an online booking.
Fishing | Angling |Walking
There are 6 different lakes around Bailieborough, all within a 5km radius of the hotel.
The Castle Lake is located 1km from Bailieborough. Has a 50 acre radius, covering an area of 20 hectares and in parts is over 6 metres in dept. The lake is a very popular fishing destination, containing Perch, Pike, Bream, Roach and Eel. There are numerous fishing stands around the lake.

Galloncurra Lake is located 5km southwest of Bailieborough and covers an area of 7 hectares with a maximum depth of 3.5m. This is a superb fishing venue and holds an excellent stock of roach-bream hybrids to specimen weight (1.361 kilos).

Bailieborough Lough, also known as Town Lake, is located on the western side of the town of Bailieborough and covers an area of 9 hectares. Due to its location this lake is a popular fishery and it can provide good sport. There are a number of fishing stands in place to accommodate anglers. This lake is relatively shallow and holds stocks of pike, perch, roach, bream and some tench.

Galbolie Lough is located 3km north west of Bailieborough and covers an area of 4 hectares with a maximum depth of 6m. This lake holds stocks of bream, rudd, hybrids and pike. 

Parkers Lake is located 4km north west of Bailieborough and covers an area of 6 hectares with a maximum depth of 6m. This lake holds a good stock of bream, as well as roach, perch and pike. It also holds roach-bream hybrids to specimen size. Access is restricted to this lake and permission of the landower is required. 

Skeagh Lake is situated 7km north west of the town of Bailieborough and it covers an area of approximately 50 hectares. Fishing is from a number of swims on the eastern shoreline. This fishery holds good stocks of bream, roach, pike and perch and access is from the road on the eastern side of the lake.