The Tailor Lounge, what a great place; with its stained glass windows and warm ambiance makes this a great place to go for some food or for a drink. 
The three beautiful historic stained glass windows are evident from both the reception hall and the tailor lounge – a must to stop and view. The stain glass images depict a view of Lower Main Street, The town lake, which today offers a beautiful peaceful walkway around its shore and The Castle, which unfortunately was destroyed by fire in 1918.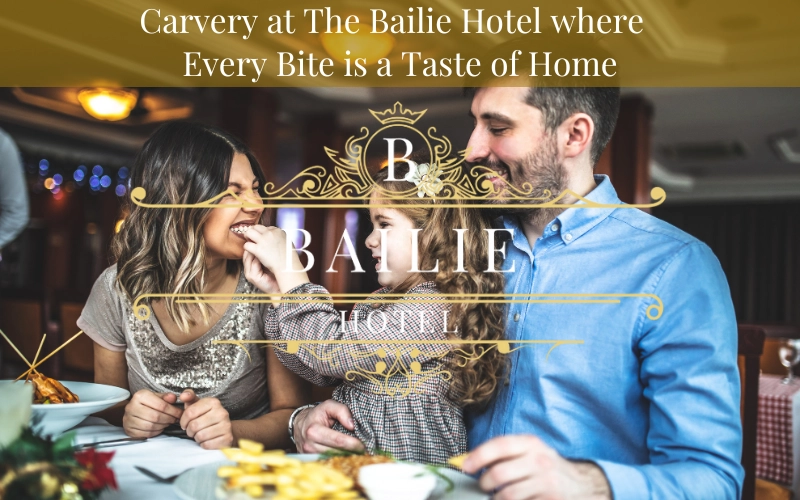 Please note we need at least 24 hours notice when making a booking for a table, we will always try to accomodate your request but during busier periods we may not be able to, when making an online booking.
Bailie Carvery
Breakfast

 
Monday – Saturday 9.00 am. – 12.00 pm. 
Sunday 10.00 am. – 11.30 am.
 Carvery Lunch 
 Monday – Saturday 12.00 pm. – 3.00 pm 
Sunday 12.00 pm. - 4.00 pm.
Bar Food Menu
Monday - Wednesday 3.00 pm - 8.00 pm
Thursday - Saturday 3.00 pm - 9.00 pm
Sunday 4.30 pm - 8.00 pm
Snack Menu
Monday - Saturday 12.00 pm - 3.00 pm
No Snack Menu on Sunday
The Bailie Carvery was recently Shortlist Nominee in the Knorr Great Carvery Competition 2018.
Planning a special occasion? 
Book a table at the Tailor Lounge and explore our fantastic function menu and pricing options!
"Myself and the boss were traipsing around Bailieborough in Cavan when a peckish hunger suddenly overcame us. As luck would have it, we were outside the Bailie Hotel where a two- roast buffet lunch was being served. 
I enquired if we might have a couple of sandwiches. A straightforward and simple request but what arrived minutes later blew me away. 
The chef had cut steaming slabs of rib roast and shoved them between thick slices of buttered batch along with a pot of Coleman's mustard on the side. It was a delicious concoction that melted in the mouth. 
I can still taste it; I can still see it, and I would happily go all the way back there ... for a simple beef sandwich".