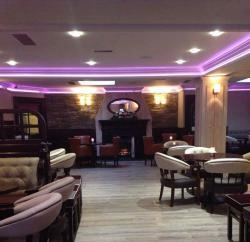 The Tailor Lounge, what a great place; with its stained glass windows and warm ambiance makes this a great place to go for some food or for a drink. Two TV's in adjacent corners of the bar for those sporting enthusiasts. The large cast-iron fireplace gives you glowing warmth as you approach the room.
The three beautiful historic stained glass windows are evident from both the reception hall and the tailor lounge – a must to stop and view. The stain glass images depict a view of Lower Main Street, The town lake, which today offers a beautiful peaceful walkway around its shore and The Castle, which unfortunately was destroyed by fire in 1918.
"The Tailor lounge is also renowned for providing live entertainment every Saturday and Sunday night. It is an ideal location for parties, anniversaries and much more, catering for up to 150 people with special offers on finger food."
We offer our guests and visitors an extensive Bar Menu, including our well renowned Sirloin Steak.
Throughout the day, guests can enjoy our snack menu serving an array of sumptuous freshly prepared salads, panninis, wraps, sandwiches and wide range of Java Republic Teas and Coffees.
Bailie Carvery
Breakfast is also a wonderful treat in our Hotel. We offer breakfast prepared fresh to order.
Monday – Saturday 9.00 a.m. – 12.00 p.m. and Sunday 9.00 a.m. – 11.30 a.m.
Midday - The Bailie Carvery offers a traditional Carvery Lunch Menu served until 3.00 p.m. We are renowned for our Roast Sirloin of Beef justifiably considered by many as the best Carvery around. Available Monday – Saturday 12.00 p.m. – 3.00 p.m and Sunday 12.00 p.m. - 4 p.m.
The Bailie Carvery was recently Shortlist Nominee in the Knorr Great Carvery Competition 2018.
 * About eighteen months ago 
myself and the boss were traipsing around Bailieborough in Cavan when a peckish hunger suddenly overcame us. As luck would have it, we were outside the Bailie Hotel where a two- roast buffet lunch was being served. 
I enquired if we might have a couple of sandwiches. A straightforward and simple request but what arrived minutes later blew me away. 
The chef had cut steaming slabs of rib roast and shoved them between thick slices of buttered batch along with a pot of Coleman's mustard on the side. It was a delicious concoction that melted in the mouth. 
I can still taste it; I can still see it, and I would happily go all the way back there ... for a simple beef sandwich.