We are excited to announce that we are now accepting bookings for our festive feasts at the Tailor Lounge, nestled within the charming Bailie Hotel in Bailborough. The Tailor Lounge at the Bailie Hotel is the perfect place to gather with friends, family, or work colleagues during the holiday season. It's a cozy haven where you can unwind and savour a mouthwatering meal after a day of holiday shopping or reconnecting with loved ones who are back in town. What to Expect?Our talented chefs have crafted a special Christmas menu that will tantalize your taste buds. From traditional roast turkey with all the trimmings to sumptuous vegetarian options, there's something for everyone. The Tailor Lounge will be adorned with festive decorations, creating a warm and inviting ambiance. It's the perfect backdrop for making cherished holiday memories. Pair your meal with a selection of fine wines, signature cocktails, or non-alcoholic beverages to toast to the season.Reserve Your Spot Now! Don't wait until the last minute to plan your holiday gathering. Secure your spot at the Tailor Lounge by making a reservation today. Whether it's a family get-together, a reunion with friends, or an office celebration, we'll ensure your Christmas meal is unforgettable. To book your table, simply call us at 00353 42 9665693
Click below to watch our latest video.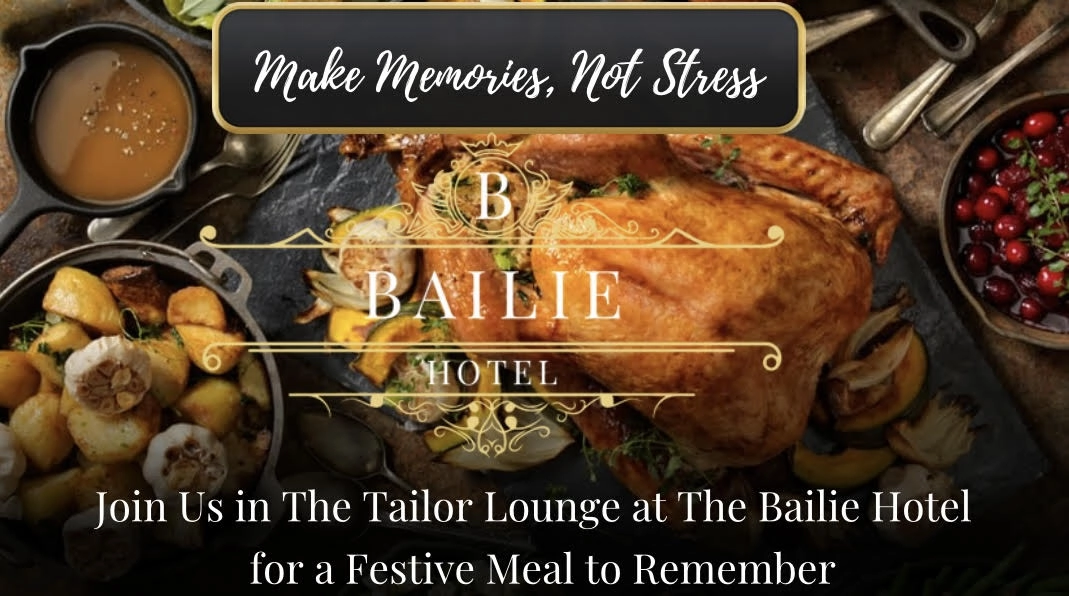 We recommend booking early to guarantee your preferred date and time. This holiday season, let the Bailie Hotel's Tailor Lounge be the backdrop to your joyful celebrations. Come for the food, stay for the company, and leave with cherished memories. We can't wait to welcome you to our festive haven in Bailborough. Make this Christmas truly special by dining with us at the Tailor Lounge. We look forward to sharing the holiday spirit with you!